Tour overview
Egypt Desert Tour
Are you looking for Happiness, Adventure, or Relaxation? So the Egypt Desert tour Safari package is the best choice. Egypt desert tour for 10 days 9 nights to the most beautiful oasis in Egypt Siwa Oasis and Bahariya oasis.
Tour visit and explore Cairo and the Pyramids for a full day, visit all Cairo tourist attractions.
Siwa Oasis is the most beautiful Oasis in Egypt, it's a time of relaxation, adventure, and meditation. Siwa Oasis is distinguished by the preservation of its virginity and the beauty of nature, which has not been polluted by industrial developments and modern human practices.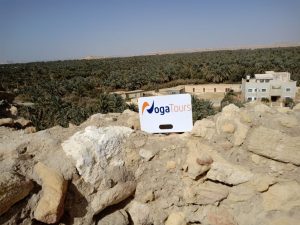 ---
Duration: 10 days Egypt Desert Tour
3 nights in Siwa Oasis  – 1-night Camping in the Desert 
1 night in Alexandria – 1 Night in White desert in Bahariya oasis 
Tour guide: All languages available
Meals: Breakfast, Lunch, Dinner.  
Private Tour: Private Car & Tour guide.
---
Tour to Siwa Oasis
Day 1: Arrival Day
At Cairo airport, upon arrival will meet our representative, you will be welcome and assisted through immigration and customs. To recognize him, just look at the sign of Noga Tours Transfer to your hotel and check in.
Day 2: Tour to Pyramids and Egyptian Museum
Morning meets our tour guide in your hotel. Start your full-day tour to visit The Great Pyramids of the Giza area, the Seven Wonders of the World.
The Three Pyramids 
In first one is the "khufu pyramid", and "khafre pyramid" the second one, and Menkaure Pyramid the third, which is guarded by the mysterious Sphinx. The Sphinx is a statue of a mythical creature with the body of a lion and a human head. It was carved from limestone, believed to be ancient by the Egyptians in the reign of Pharaoh Khafre 2558-2532 BC. Later Drive to The Egyptian Museum.
Egyptian Museum, one of the most famous museums in the world for its antiquities dating back some 50 centuries from Egypt, is located in Tahrir square, It contains a number of rare Pharaonic artifacts and mummies and The rooms feature Tutankhamun.
Back to your hotel.
Day 3 : Cairo to Siwa Oasis tour
Breakfast at your hotel and check-out. Drive to El Alamein where more than 80 000 soldiers were wounded or killed in WWII. Explore The El Alamein Museum. Afterward, we continue our drive to the ancient Siwa Oasis.  Arrive in  Siwa and check-in at your hotel.
 Day 4: Siwa Camping in the Siwa desert
Breakfast at your hotel.Fully guided day tour. We begin at The Oracle of Amun, Cleopatra's Bath, hot water well famous for its healing properties. Then we visit the Temple of Amun, Gebel al Mawta (The Hill of the Dead,), and Shaly (Siwa's ancient city).Sunset at Fatnis Island (Fantasy Island). Escorted to your hotel.
 Day 5 : Siwa Safari by jeep
Breakfast at your hotel and check-out.4X4 Jeep desert safari begins with a drive to Bir Wahed, a natural hot spring west of Siwa. Drive continues to The Baharia Oasis over the vast dunes of The Great Sand Sea. We pass the two lakes area before stopping at sunset to set up your tented camp. Experience a nomadic Bedouin evening around a campfire with a barbecue dinner.
 Day 6 : Siwa to Alexandria
Early morning transfer back by Jeep to Siwa Oasis to catch your private car to Alexandria.Overnight Hotel
Day 7: Alexandria day tour
Morning Breakfast in Hotel
Check out hotel . Start your tour in Alex to visit The Catacombs of Kom El Shokafa, and then drive to Pompeii's Pillar and Sarbium Temple. Then drive to Pompey's Pillar (column).
The Pillar is an ancient Roman column and one of the most famous monuments. And drive west Alexandria to visit the Citadel of Qaitbay, which was established in 1477.
This castle is surrounded by the sea on three sides. This castle contains the main wall and fences in the northwest. Walls are divided into two, internal and external. which include defensive openings for the soldiers. Later drive to Alexandria Library The Great Library of Alexandria's oldest Library in the world, which contains more than two million books was the most important center of learning in ancient times. Later transfer back to Cairo and overnight.
Day 8: Cairo to Bahariya oasis
After Breakfast drive at 06.00 from Cairo by tourist bus to Baharia. Arriving Bahariya oasis at 10.30 hrs. Visit by 4×4 jeeps Black Desert and the small Bedouin village of El Haiz . Enjoy your Lunch at 13.30 hrs. Continue drive to the White Desert. During the Way, you will visit Crystal Mountain and El Akabat "Rose Desert ". Arrived to the White Desert at 19.30 hrs.
Dinner and Overnight in Camping.
Day 9 : White Desert in Bahariya Oasis
After Breakfast drive at 08.00 back to bahariya to visit the English army house, Black Mountain & The hot & cold springs, Pyramid Mountain and Sold Lake. Enjoy your Lunch at 13.30 hrs. Drive back to Cairo.
Day 10 : Departure day
Transfer to Cairo airport to fly back home with your wonderful Memories.
" Bon voyage " 
---
Siwa Hotel 
Dream Lodge Siwa Hotel.
 Shali Lodge Siwa Hotel 
(breakfast, dinner, and lunch )   
Siwa Oasis trip Description 
Transportation in Siwa: All the mentioned itinerary by AC minivan and 4WD Toyota land Cruiser newest model (fully air-conditioned, with a maximum of 6 pax per car, all seats are facing forward providing that all guests will have window seats at disposal for all the trip)Every 4WD will be equipped.
---
Siwa Oasis Camping 
The tented camp will include:
Spacious, well-ventilated dome tents including Mattresses, blankets, sleeping bags, and bedsheets
All necessary cooking gear, kitchen utensils, mugs, and glassware
Binoculars, reference books on Egypt
Cool boxes
Trash bags
Iceboxes
Fire grill and cooking stoves
Siwa Accommodation style will be
Camping or hotel used is clean
(with hot water bathrooms, the best in the oases.)
Food and Beverage in Siwa
Breakfast
(juice, tea, coffee, jam, cheese, beans, eggs, and bread)
Picnic lunch
(Fresh vegetables, white cheese, tuna, sardines, chips& fruits)
Dinner
(Rice or pasta, cooked vegetables, soup, and chicken or beef)
tea & coffee with all meals .1 mineral water.
Included
4 night's hotel in Cairo
3 nights siwa oasis
1 night in bahariya oasis
1 night Hotel in Alexandria
Camping in Siwa Oasis
Pyramids Day Tour
Egyptologist Tour guide.
Entrance Fees
Professional Oasis Guide
Private Tour
Jeep 4×4
Not Included
International Flight tickets
Tipping
visa entry