Tour overview
Tour The pyramids of Egypt
Full-day tour to the Pyramids of Egypt includes all major Pyramids in Egypt, the three Pyramids, and sphinx, Red and Bent Pyramids in Dahshur, tour is available every day.
---
Special Offer 2022: 45 $ per person 
Duration:  7 hours tour of pyramids of Egypt  
Tour guide: All Languages available
Pickup: from your hotel.
Private Tour
---
Tours of  Pyramids in Egypt 
Day tour to Visit Giza Pyramids, Sphinx, and Dahshur
Morning at 8.30 am  meet our tour guide in your hotel Start your full-day tour to visit
The great Pyramids of Giza
The Seven Wonders of the World The Three Pyramids, the Big one is the Khufu pyramid, and khafre pyramid is the second one, and Menkaure Pyramid the third, which are guarded by the mysterious Sphinx statues.
Sphinx of Giza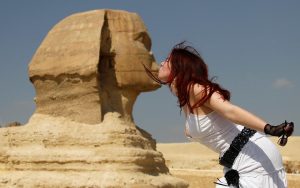 A sphinx is a statue of a mythical creature with the body of a lion and a human head. It was carved from limestone, believed to be ancient by the Egyptians in the reign of Pharaoh Khafre 2558-2532 BC
The afternoon will drive to Dahshur is one section of the great necropolis of Memphis.
Dahshur Pyramids
Afternoon drives to "Dahshur" visit the Red Pyramid, which is one of the pyramids of Egypt and one of three pyramids built by the Pharaoh "Sinfero" King.
The Red Pyramid in the Pyramids of Dahshur in Egypt
This is the first complete pyramid in the history of the pyramids in Egypt.
It was called " RED PYRAMIDS "  because the stones of this pyramid were cut from the Red Mountain. The height of this pyramid is 99 meters.
In the Same area will visit Bent Pyramids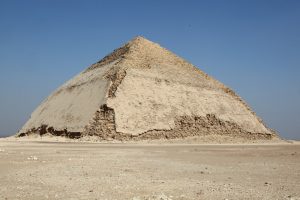 The Pyramid of Sneferu is an ancient Egyptian pyramid located in the possession of the tomb of Dahshur, approximately 40 kilometers south of Cairo, which was built under the ancient kingdom of Pharaoh Sneferu (c. 2600 BC). A unique example of the early development of the pyramid in Egypt was the second pyramid built by Sneferu.
Later transfer back to your hotel.
"Bon Voyage"
---
Prices per person 
| | | | |
| --- | --- | --- | --- |
| Solo Traveler  | 2 to 3 persons  |   4 to 6 Persons  | 7 to 10 Persons |
|  100 $ |  45 $ |     30 $ |     20 $ |
Tour by private car and private tour guide.
Children Policy
From 0 – 6 Free of Charge.
From 6 – 11.99 pay 50% of the tour price.
12+ pay full tour price as per adult person.
---
For Reservation
Just provide us with the date of the tour?

How many Adults?

How many kids?

Name of the hotel?
For Payment
We accept credit card

Pay Online

Bank Wire

Cash Payment

We accept any currency

No Hidden Cost.
Note
Trip available every day.
Included
Tour to Pyramids of Giza
Dahshur Pyramids
Private Minivan
Start at 7.30 am back at 6.00 pm.
Egyptologist Tour guide
Water bottle
Bent pyramid
Red Pyramid