Tour overview
Budget Egypt Tours
8 days 7 nights budget Egypt tours for Egypt Lovers & Backpackers, visiting Pyramids and Saqqara and Memphis, then transfer by first-class seating train to Aswan to start Nile River Cruise trip.
Nile Cruise starts from Aswan sails to Kom Ombo then Edfu & Esna and ends the trip on Luxor. Nile River cruise has a variety of activities, including a Swimming pool, Sun Deck, Gym, Recreation Area, Bar, and Restaurants.
Catch the seating train from Luxor back to Cairo, to visit the Egyptian museum and Islamic and Coptic Cairo.
Tour of Egypt Nile Cruise package is flexible to start every day of the week.
Tour will be 700 $ per person, special prices for 2023 
---
Duration: 8 days budget Egypt tours
2 nights in Cairo
3 nights Nile Cruise
2 Nights in Train 
Tour guide All languages available.
Meals Breakfast in Cairo hotel / Full board in Nile cruise 
Tour Type : Egypt private tours
---
Egypt budget tours
Itinerary

1. Day – Arrival day in Cairo 

At Cairo Airport, you will be welcome and assist through immigration and customs.

Our representative will wait for you.

Look at the sign of "Noga Tours" which will be a recognized sign.

Drive to your hotel and overnight.

2. Day – Tour to Pyramids Saqqara Pyramids & Memphis City 

Pyramids Day Tour: Morning after breakfast in Hotel.




Start your full-day tour to visit The Great Pyramids of Giza.




The Seven Wonders of the World The Three Pyramids, the Big one is the "khufu pyramid", and the middle is Chephren Pyramid the son, and, and Mycrenos Pyramid the third son of Chephren king.




After that, it will drive to Sphinx, "Sphinx" statues stone which is in the human head with the body of a lion. The oldest and largest carvings in Egypt. And this is the time of the Sphinx kiss.




Later drive to Saqqara, which is one section of the great necropolis of Memphis.




Saqqara Pyramid was built by Zoser I in 2700 BC.




Saqqara is considered the oldest and first pyramid in the world.




Afternoon drive to Memphis –"Memphis city" is the capital of the ancient kingdom. You will see the big statues of "Ramses II", it was one of the most important cities throughout the History of ancient Egypt.




Evening transfer to Giza train station to catch the 1st class seat train to Aswan.




Train very comfort takes 12 hours.

3. Day –: Cairo to Aswan / Star Nile cruise trip 




Nile Cruise Tour


Morning arrives Aswan at 8.00 Am, meet at Aswan train station and

transfer to your five Star Nile cruises.




Embarkation & Lunch on board.




Later start your tour to visit the High Dam, the Old Dam, and the Philae temple.




Later back to the Cruise




Afternoon Tea




Dinner on board & Nubian folkloric show.




Overnight in Aswan (OnBoard).

4. Day – Aswan sails to Kom Ombo 

Breakfast on Board




At 2.00 pm start sails to Kom Ombo, throw sailing enjoy the view of the Nile River.




Afternoon tea.




Arrive Kom Ombo at 7.00 pm


Start visit Kom Ombo Temple which is dedicated to the two gods Sobek the crocodile god and Harveris, the Sun god.


Back to the ship and enjoy your Dinner




Egyptian Galabeya Party Show




Sails to Edfu




Overnight in Edfu (On Board).

5. Day – Edfu tour and sails to Luxor / Luxor and Karnak temple

Breakfast on board




Visit the Temple of Edfu on the western bank of the Nile dedicated to the god hours.




Back to the ship and start sail to Luxor.




Afternoon tea.




Arrive Luxor and visit East Bank – Karnak Temple & Luxor Temple




Dinner on board




Belly Dance Show




Arrive in Luxor and overnight.

6. Day – Luxor tour to valley of the Kings / Train back to Cairo 

Breakfast on board




Disembarkation from the Nile cruise


Start tour to visit the West Bank – The Valley of the Kings 
The temple of Queen Hatshepsut at El-Deir El-Bahari and the Colossi Memnon.


At 7.00 pm transfer to Luxor train station accompanied by our Representative.




Catch the first class seat train, it takes 9 hours from Luxor to Cairo  




Overnight train.

7. Day – Cairo Tour to Egyptian Museum Citadel of Saladin with Coptic Cairo

Morning arrive in Cairo at 8.00 Am, upon arrival

meet our tour guide to start the Cairo tour to the Egyptian Museum, one of the most famous museums in the world for its antiquities dating back some 50 centuries from Egypt's, it is located in Tahrir square, It contains a number of rare Pharaonic artifacts and mummies and The rooms feature Tutankhamun.
Later drive to Islamic Cairo to visit the Citadel of Saladin and Alabaster mosque which was once occupied by Mameluke and Ottoman palaces.
Continue to drive to Coptic Cairo, to visit the Church of St. Mary or El-Moallaqah the most popular name for this church is the hanging Church.


Visit the Church of St. Sergius, established at the end of the 4th century.




The same Area will visit Ben Ezra synagogue.




The synagogue was originally a church called the "Church of the Blind" and was sold by the Orthodox Church to the Jewish community.




Later transfer back to your hotel and overnight.

8. Day – Departure Day 

 

Breakfast in the hotel, meet our representative to transfer to Cairo airport to fly back home with your wonderful memories.
Bon Voyage 
---
Prices Per Person
Price quotes are in US dollars per person
Per person in Double 
---
Cairo hotel
3 star Hotels in Cairo 
Cosmopolitan Cairo hotel
in the heart of Cairo Downtown
Best location to Explore Cairo, walking in downtown enjoy the Egyptian food 
---
Egypt Nile Cruise
5 Star Deluxe Nile Cruise
M/S Princess Sarah / Blue Shadow 
Start from Aswan sails to Luxor, on the way will stop in. Komombo, Esna, Edfu, and end on Luxor.
The accommodation type will be Full board Breakfast, Lunch, and Dinner.
delicious and variety open buffet and special food for vegetarians.
Cruise has daily oriental parties like Belly dance show, Galabia party,tanora show, Nubian show.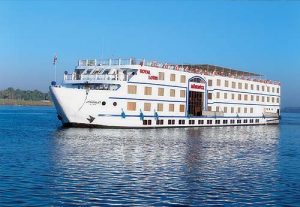 ---
Included
Meet and assist at Egypt airports.
2 night's hotel in Cairo
3 nights Nile Cruise Aswan to Luxor
1 night seating train Cairo to Aswan
1 night seating train Luxor to Cairo
Local Transportation
Professional Guide
Entrance Fees
Pyramids Day Tour
Cairo Day Tour
Luxor tour
Karnak and Luxor Temple
Download pdf brochure