Tour overview
Egypt Trip 
9 Days 8 Nights Cairo & Sharm El sheik. Family Egypt trip, including Cairo and Pyramids tour.
Tour includes flight tickets from Cairo to Sharm El Shiekh and Back for 4 nights.
Sharm El Shiekh has many activities, like snorkeling, diving, desert safari. Sharm has the most beautiful corals in the world. 
Also from Sharm, you can visit for 1-day tour to St.catherine monastery and Moses Mountain.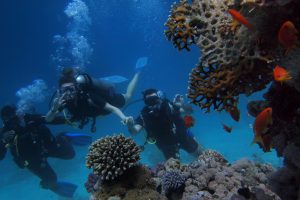 ---
Duration Egypt trip:  8 nights Egypt Trip 
4 Nights in Cairo + 4 nights in Sharm El sheikh
Tour guide: All languages available 
Meals: Breakfast, Lunch, Dinner.
Flights: Cairo to Sharm / Sharm to Cairo 
Tour type: Private tour.
---
Cairo and Sharm el sheikh tour
Brief itinerary
1. Day – Cairo – Arrival Day
2. Day – Pyramids Tour
3. Day – Cairo tour
4. Day – Cairo tour flight to Sharm
5. Day – Sharm overnight
6. Day – Sharm overnight
7. Day – Sharm overnight
8. Day – Sharm flight back to Cairo 
9. Day – Cairo – Departure Day
---
Prices per person 
| | | | |
| --- | --- | --- | --- |
| |   3 Stars  |   4 stars  |   5 stars  |
|  Prices per person in Double or Triple  | 700 $  | 750 $  |    860 $  |
 Special prices for groups .. Contact us.
Special offers for 2022
---
Cairo hotels 
Ramses Hilton Hotel – Sonesta Hotel & Casino – Semiramis Intercontinental Hotel
Include breakfast
Barcelo Pyramids hotel – Cairo Pyramids Hotel 
Golden Hotel, in the heart of Cairo Downtown
---
Sharm El sheikh Hotels
5 Stars hotel
Movenpick Sharm Resort – Stella de mare beach
All-inclusive
4 stars hotels
Parrotel Beach resort – Sea beach Aqua park – Hilton sharks bay
All inclusive
3 Stars hotels
 Falcon Naama bay hotel
---
Read More our Egypt Tour packages
Included
4 night's hotel accommodation in Cairo
4 nights Hotel accommodation in Sharm
All inclusive in Sharm Resort
Tour to Pyramids & Egyptian museum
Egyptologist Tour guide.
Flight Cairo to Sharm
Flight Sharm to Cairo
Entrance fees
Day 1 : Cairo Arrival Day
In Cairo airport, you will Welcome and assisted through immigration and customs.
Our representative will wait for you, Look at the sign of" Noga Tours " which will be your recognized sign", then Escorted to your selected hotel.
Day 2 : tour to Pyramids, Saqqara, and Memphis city
Pyramids Day Tour: Morning after breakfast in Hotel
at 9.00 A.M meet our tour guide to Start your full-day tour to visit The Great Pyramids of Giza area,
The Seven Wonders of the World the Three Pyramids, the big one is Khufu pyramid, Chephren the second one, and Mycrenos the third, which are guarded by the mysterious Sphinx statues stone which is in the human head with the body of a lion.
Later will drive to Saqqara, which is one section of the great necropolis of Memphis.
Saqqara Pyramid built by Zoser I in 2700 BC. Saqqara considered the oldest and first pyramid in the world
Afternoon drive to Memphis –" Memphis "is the capital of the ancient kingdom, you will see the big statues of Ramses 2, it was and one of the most important cities throughout the History of ancient Egypt.
Later back to your hotel.
Evening transfer back to your hotel and overnight.
Day 3: tour to Egyptian Museum, Old Cairo & Citadel of Saladin
The morning after breakfast in your hotel
Meet our tour guide in your hotel, drive to the Egyptian Museum, one of the most famous museums in the world for its antiquities dating back some 50 centuries from Egypt's, it is located in Tahrir square, It contains a number of rare Pharaonic artifacts and mummies and The rooms feature Tutankhamun.
Later drive to Islamic Cairo to visit Citadel of Saladin, and Alabaster mosque which was once occupied by Mameluke and Ottoman palaces
Continue to drive to Coptic Cairo, to visit the Church of St. Mary or El-Moallaqah the most popular name for this church is the hanging Church. Visit the Church of St. Sergius, established at the end of the 4th century; it stands on a crypt that is said to have sheltered the Holy Family during their flight to Egypt.
Back to your hotel
Day 4: Cairo to Sharm
The morning after breakfast will drive to Cairo airport for a short flight to Sharm-el-Sheikh.
Meet our representative in Sharm airport and then drive to your hotel and Check-in in your hotel.
Free at leisure.
Overnight at hotel
Day: 5 : Sharm El sheik
Free at Leisure in Sharm, (Optional trip to Ras Mohamed National Park) Overnight in Sharm.
Overnight at the hotel.
Day: 6 : Sharm
Free at Leisure in Sharm, (Optional trip to Mount Sinai and St. Catherine Monastery). Overnight in Sharm.
Day: 7 : Sharm
Free at Leisure in Sharm, (Optional trip to Mount Sinai and St. Catherine Monastery).
Overnight in Sharm
Day: 8 : Sharm back to Cairo
Morning breakfast in hotel
Check out and transfer to Sharm airport for short flight to Cairo
Arrive Cairo meet our representative and drive to your hotel in Cairo
Overngiht in Cairo
Day 9 : Departure Day
Breakfast in the hotel, meet our representative to transfer to Cairo airport to fly back home with your wonderful memories.
" Bon Voyage "